Continuing our look at ridiculous events in Canadian history, this week we will look at one of the worst cases of mass murder in Canadian history, which took place in 1949.
Joseph-Albert Guay, more commonly known as Albert Guay, was born in Quebec in 1917. A jewelry and watch salesman, he met and married Rita Morel during World War II. Their marriage was perfectly fine until they had a baby. Reportedly, Guay resented that Rita's attention was now directed towards their child and not him. Around the same time, his jewelry business began to fail and Guay wracked up a significant amount of debt. So how does one solve this situation? By starting up an affair of course!
Under the false name, Roger Angers, he began a relationship with a seventeen year old waitress named Marie-Ange Robitaille. Despite being in debt and married, he bought her an apartment and asked her to marry him. Rita was also involved in extramarital affairs, but not much is known about them. When Rita found out about her husband's intentions, she confronted the two. Getting a divorce in Quebec during the 1940s was next to impossible. As such, when Marie-Ange found out Guay was already married, she dumped him. It probably also didn't help that when she tried to leave him before, he locked her in a room and stole all her clothes. The other time he bit her face hoping to scar her so that no one else would want her. Charming.
For reasons unknown, Guay still thought he could win Marie-Ange back and he felt that the only way to achieve this would be to get rid of his wife. I guess he thought homicide was an aphrodisiac. At first he tried a more traditional route: poison. He offered a man $500 to do the job for him. When his offer was rejected, Guay went to Plan B: Murder by airplane.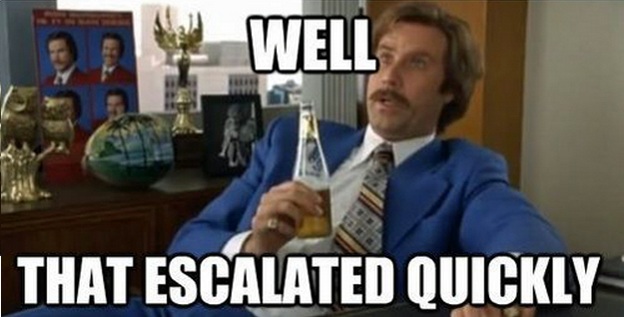 Inspired by a similar, but ultimately foiled murder plot in the Philippines, Guay sought out Genereaux Ruest to build a bomb. Ruest agreed because he owed Guay money and he subsequently enlisted the help of his sister, Marguerite Pitre. She bought the dynamite, fuses, and detonating caps at a hardware store. Guay took a trip himself on the Canadian Pacific Airlines route that he wanted Rita to take. He made sure to take note of the time in which the plane was over water, believing any clues would sink and/or get washed away by the currents. He then had Ruest craft a timed denotation device, took out $10,000 worth of life insurance on Rita, and bought her a plane ticket to Baie-Comeau, Quebec. He asked her if she could pick up a box of jewels for him. In the beginning Rita declined but she later relented.
The remains of Canadian Pacific Airlines DC-3. [Source]

It is unfortunate that she changed her mind because Guay slipped the bomb into the front part of her luggage. The plane exploded in mid-air, killing everyone on board. The flight had been delayed by five minutes though and so it blew up over a mountain, Cap Tourmente, instead of the St. Lawrence. 22 people, including Rita, died that day making it the deadliest commercial plane bombing up to that date.
Guay tried to put on a big show of grief. He even went as far as to have a five-foot cross made of roses for Rita's funeral. It was a waste of time though because the police were able to piece things together pretty quickly. How? Well first of all, there were clues strewn all over the mountain, so plenty of forensic evidence was available. Second, Guay thought it would be a good idea to try to cash in Rita's life insurance three days after she died.
When a newspaper report stated that the police were closing in on a woman who looked like Pitre, Guay tried to poison her. It should be no surprise at this point that Guay screwed that up too and failed to give her a lethal dosage. The three murderers were ultimately arrested, tried, and hanged by 1951. It appears Guay felt no remorse over the fact that he killed 21 others along with his late wife. "At least I die famous," were reportedly Guay's last words. He must have mistaken "famous" with "flash-in-the-pan," am I right?
J. Albert Guay enter the Quebec City courthouse for his appearance. [Source]
Know of any other bizarre crimes from Canada's criminal history? Please feel free to share below!
---
Sources
Bovsun, Mara, "Canadian jeweler J. Albert Guay devises plot to rush bomb aboard plane minutes before takeoff, killing wife and 22 others passengers in 1949," New York Daily News. April 4, 2015. Accessed from: http://www.nydailynews.com/news/crime/justice-hed-article-1.2173098
"Famous Canadian Crimes: The Albert Guay Affair," History of Forensic Science in Canada, Virtual Museum of Canada, Canadian Historical Information Network, 1998.84
"6 of Canada's most bizarre murders," Maclean's. Dec 15, 2012. Accessed from: http://www.macleans.ca/society/life/6-of-canadas-most-bizarre-murders/
Save