Snapshots of Canada's Past: History is more than just words on a screen or from a textbook; this series is a thematic look back at Canadian history through visual imagery.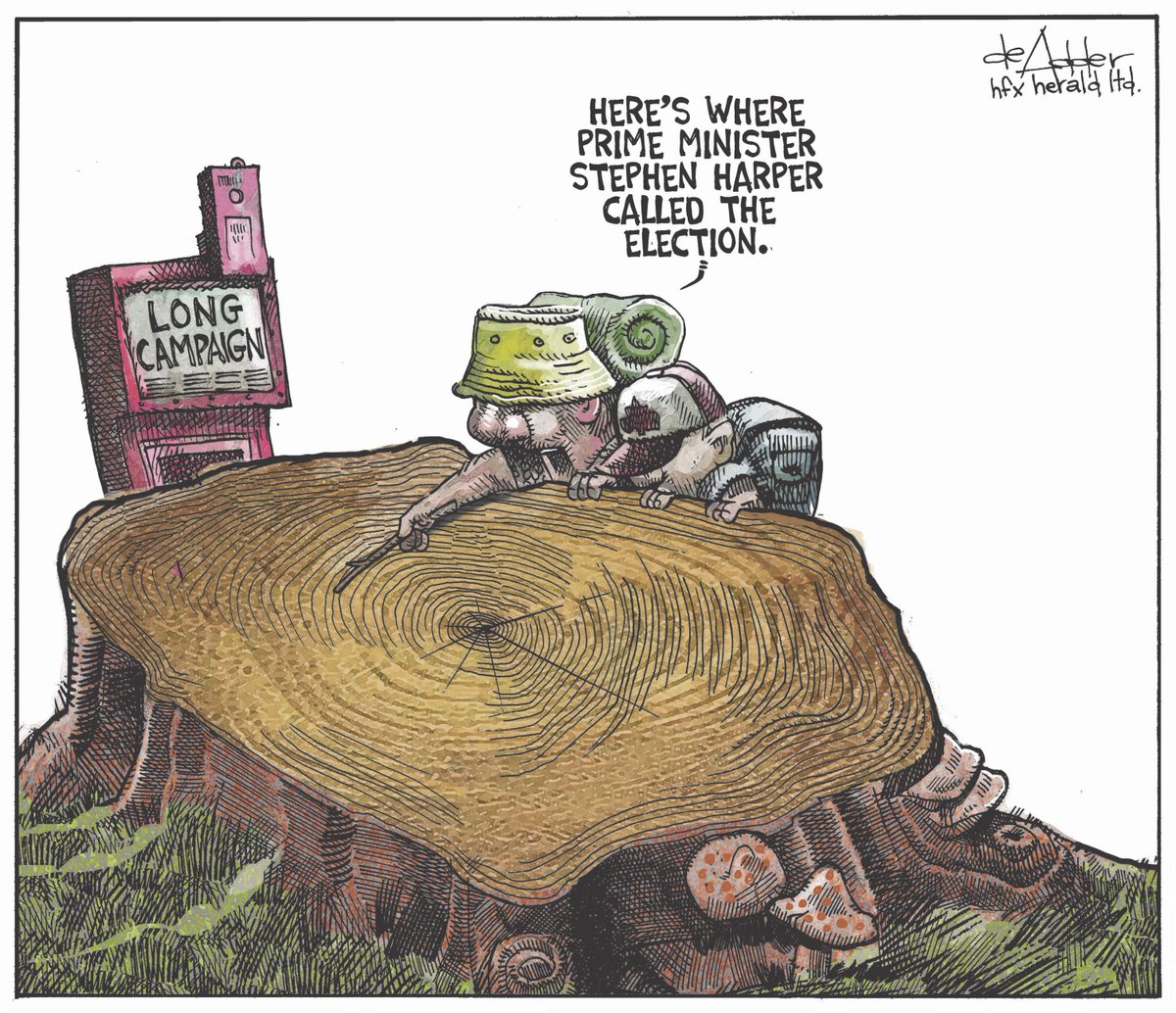 From the Chronicle Herald for August 6, 2015 by Michael de Adder.
It's August 11, 2015 and that means that the 42nd Canadian General Election is only a mere 69 days away. If that seems horribly long and tedious, just remember it could be worse. That being said, between now and October 19th, I intend to do a couple of posts related to our own electoral history. The first of which is a visual look back at past Prime Ministers in the act of campaigning along with some fast facts about these 22 individuals.
For the most part, the story of Canadian federal politics is one of two parties duking it out: the Liberal Party and the Conservative Party. (The latter renamed themselves the Progressive Conservative Party in 1942 and dissolved in 2003 in order to create today's modern Conservative Party). The rise of farmers' unions in the 1920s led Canada to shift away from the two-party system, (the creation of the Co-operative Commonwealth Federation in 1932 is notable as they became the New Democratic Party in 1961). To this day, Canada remains a multiparty parliamentary system. Please click on the images below to learn more about each leader.*
Fast Facts about Canadian Prime Ministers:
Average age? 56 years old.
Want to be PM? Perhaps consider law school. The vast majority worked as lawyers prior to assuming office.
Quebec is where most (7/22) have come from.
There are two ways to become PM: election or party appointment. With the latter, since there are no term limits, resignations are quite common. Half of our PMs originally won the job via internal appointment. Generally they call an election shortly after assuming office to make things officially democratic.
Canada's only female PM, Kim Campbell, was not elected (she replaced Brian Mulroney) and lost her job 4 months in. Jean Chretien's Liberals easily defeated the PC Party as they were about as popular as getting a root canal at the time. (They went from 154 to 2 seats in the House of Commons).
William Lyon Mackenzie King is our longest serving PM, (21 years, 154 days, non-consecutively).
Campbell isn't the shortest serving; John Turner (79 days) and Sir Charles Tupper (68 days) rank below her.
Stephen Harper is currently our 6th longest serving PM (9+ years).
Although Tupper was the oldest to be elected (74 years), he was not our oldest PM. That title goes to our first, Sir John A. Macdonald, who died in office at the age of 76 years after holding the job (non-consecutively) for over 19 years.
* Note: Regrettably, I was unable to find pictures of Sir John A. Macdonald and Alexander Mackenzie campaigning. If anyone has any, please feel free to share them in the comments!
---
Sources
"Prime Ministers of Canada Biographical Information," Library of Parliament. Accessed from: http://www.parl.gc.ca/parlinfo/compilations/federalgovernment/primeministers/Biographical.aspx
Schlee, Gary. Canadian Prime Ministers. Accessed from: https://canadianprimeministers.wordpress.com/
Pictures: Getty Images, Huffington Post Canada, Library and Archives Canada, LIFE Magazine.