An unidentified demonstrator being taken into custody outside the Montreal Forum. Thousands of angry Montreal Canadiens fans protested the suspension of star player Maurice Richard. The riot that ensued led to almost $900K (adjusted for inflation) in damages.
Ah, rioting and sports fans. Those two go together like fighting and hockey. And sometimes, as was the case on March 17, 1955, things come together and you get a combination of all four.
Maurice "Rocket" Richard was a legendary professional ice hockey player. He had a fiery personality and a reputation for being one of the fiercest competitors ever to hit the ice. For 18 seasons he played for the Montreal Canadiens and racked up quite the list of statistics along the way—he wasn't called the Rocket for nothing:
– First player in NHL history to score 50 goals in 50 games. He did so during the 1944-1945 season.
– First player to reach 500 career goals.
– Played in 13 All-Star Games.
– Part of 14 post-season NHL All-Star Teams.
– When he retired in 1960, he was the league's all-time scorer (544 goals).
– The Hockey Hall of Fame waived its usual waiting period (five years post-retirement) and inducted him in 1961.
– The award given annually to the player who scores the most goals during the season is called the Maurice Richard Trophy.
Richard shows the puck with which he scored the 400th goal of his career against the Chicago Black Hawks, (December 18, 1954).
For fans of the Habs though, Richard was more than just their star player, he was (and still is) considered a cultural icon. He was a hero to French-Canadians who felt like they were treated as second class citizens in Canada due to their minority status. As such, historians suggest that the tension between the English and the French was played out every time Richard took on other teams—and more often than not won. However, since Richard was a star, opposition players tried to stop him through violence or by trying to provoke him into a fight through ethnic slurs. Richard didn't put up with nonsense, he always fought back. As such, he was repeatedly fined by NHL President Clarence Campbell, which led to an ongoing feud between the two men. Richard, alongside many Quebeckers, felt that Campbell treated French Canadian players more harshly than English players.
Maurice Richard scores on Red Henry (Boston Bruins). Richard went onto score three goals and the Canadiens won, 7-3. (April 14, 1953. Part of the 1953 Stanley Cup playoffs—which the Habs won).
"What did Campbell do when Jean Béliveau was deliberately injured twice by Bill Mosienko of Chicago and Jack Evans of the Rangers? No penalty, no fine, no suspension. Did he suspend Gordie Howe of Detroit when he almost knocked out Dollard St. Laurent's eye? No! … Strange that only Dick Irvin and I have the courage to risk our livelihood by defending our rights against such a dictator." – Maurice Richard in his weekly column for the newspaper Samedi-Dimanche. (Richard was forced by Campbell to pay a $1000 fine and he had to stop writing his column following these comments).
"I will not call Mr. Campbell a dictator again."
As you can see, losing a player like Richard would have been a major blow to fans, but that's what happened during the 1955 NHL season. On March 13th during a game against the Boston Bruins, defenseman Hal Laycoe purposely hit Richard in the head with his stick. With blood gushing down the side of his face (he later required five stitches for the high-sticking), Richard snapped and began repeatedly slashing at Laycoe's head and shoulders with his own stick. One hit actually broke the stick in half. When Richard threw down his gloves for a fist fight, linesman Cliff Thompson tried to hold him back. Thompson's intervention resulted in two punches to the face from Richard and he was knocked unconscious. Richard was given an instant $100 fine and was banned from the rest of the game. The Boston police tried to arrest Richard for assault, but the other Habs players blocked the dressing room door and Bruins officials told the police to let the NHL officials deal with the situation. Two days later, Richard was suspended by Campbell for the rest of the season—including the playoffs.
To the left, Linesman Sam Babcock and Montreal's Bert Olmstead hold back Laycoe. To the right, Montreal's Jean Béliveau is restraining Boston's Fleming Mackell from getting at Richard, who is behind them in the photo.
Campbell might as well have suspended the entire team; fans were absolutely furious. Public outcry poured in and several death threats were issued to Campbell. Yet for some strange reason, Campbell thought it would be a good idea to attend the Habs next game. On the 17th, 6000 protestors arrived at the Montreal Forum while 15,000 surly fans sat inside to watch the match against the Detroit Red Wings. Some carried signs praising Richard and denouncing Campbell.
Angry Habs fans outside the Forum.

NHL President Campbell fixing his hat after irate fans threw various objects at him.
Things did not turn ugly until the police arrived. At that point, those outside tried to crash the gate. Campbell and his group had tomatoes, eggs, and garbage thrown at him. Windows were smashed. Heavy chunks of ice were thrown at streetcars. A man pretended to be a friend of Campbell's and when Campbell went to go shake the man's hand, he was slapped and then punched in the face.
Fans flee from tear gas inside the Montreal Forum.
After the attacker was dragged away, someone set tear gas off. The Forum was closed by officials, resulting in Montreal having to forfeit the game to Detroit. The angry fans inside joined those outside and they smashed windows, attacked bystanders, set newspaper stands on fire, and turned over cars. Over 50 stores were looted and the general area around the Forum was heavily vandalized. In the end, 12 policemen and 25 civilians were injured, Saint-Catherine Street was a disaster, and damages totaled $100,000 ($872,340 in 2015).
Fun Fact: Richard and his wife were at the game. The tear gas actually exploded close to where he was. In the chaos, fans didn't notice their star player making his way around the arena to where his wife was sitting. They slipped out unnoticed. When asked about the riot, he said, "it was terrible, awful. People might have been killed."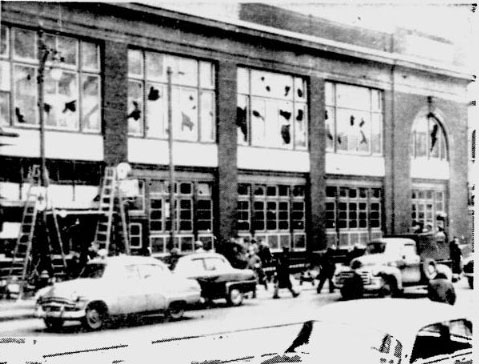 The Forum, post-riot.

The next day, in an attempt to ease the situation Richard went on television and spoke to his fans:
"Because I always try so hard to win and had my troubles in Boston, I was suspended. At playoff time it hurts to not be in the game with the boys. However, I want to do what is good for the people of Montreal and the team. So that no further harm will be done, I would like to ask everyone to get behind the team and to help the boys win from the New York Rangers and Detroit. I will take my punishment and come back next year to help the club and the younger players to win the Cup."
Richard was successful in preventing any further destruction, however the Habs ended up losing to the Red Wings in the Stanley Cup playoffs that year.
Sixty years later, much like the player at the heart of the incident, the riot has taken on mythical status in sports history. Like Richard, the riot has been attached to the ongoing tension between English and French Canadians and the event is often considered a precursor to Quebec's Quiet Revolution of the 1960s. Furthermore, the riot is the main factor that transformed Richard from a sports figure to a political symbol. Richard never saw himself as a revolutionary figure however; he dismissed himself as a catalyst for change. He saw himself as just another hockey player.
---
Sources
Boylen, Rory, "On this day in history: Maurice Richard Riot in Montreal," The Hockey News. Accessed from: http://www.thehockeynews.com/blog/on-this-day-in-history-anniversary-of-the-maurice-richard-riot-in-montreal/
Lefebvre, Robert. "Amazing And Rare Photos From The Canadiens Past," SB Nation. Accessed from:
http://www.habseyesontheprize.com/2009/2/15/759788/amazing-and-rare-photos-fr
Podnieks, Andrew, Players: The ultimate A–Z guide of everyone who has ever played in the NHL, Toronto, Ontario: Doubleday Canada, (2003).
For more on Maurice Richard, please read his Badass of the Week article because it is hysterical.
#GoHabsGo!