What would you say about a mystery that involves a man whose cause of death is not only unknown, but there is also confusion over where his body is actually buried? Most would call that one hell of a botched investigation. Others might call it the tragedy that surrounds Tom Thomson.
Over the course of his short thirty-nine years, Thomson became one of Canada's most influential painters. His work not only inspired the Group of Seven but changed how the Canadian landscape was viewed. Nevertheless, 98 years after Thomson's untimely death many questions still remain. Was it murder? Was it suicide? Or was it merely an accident?
Northern Lights (1916)
Woodland Waterfall (1916)
Born in Claremont, Ontario in 1877, Thomson actually dabbled in other areas, (including machinery and business) and attemped to enlist in both the Second Boer War and the First World War, (he was unable to due to health reasons), before he settled into art. In 1909, he became employed as a graphic artist at Grip Ltd, a photo engraving house in Toronto, and his fellow coworkers happened to be J.E.H. MacDonald, Arthur Lismer, Fred Varley, Franklin Carmichael, and Franz Johnson. Art took over. By 1912, he and his coworkers began to make trips up to northern Ontario.

Tom Thomson as a graphic artist at Grip Limited. Source: Archives of Ontario.

Arthur Lismer and Tom Thomson, Smoke Lake, Algonquin Park (1914). Source: McMichael Canadian Art Collection Archives

Tom Thomson tying fishing lure, c.1915-16. Source: McMichael Canadian Art Collection Archives
Algonquin Park (particularly Mowat Lodge, a hotel on Canoe Lake) became his home base. from 1914 to 1917, Thomson spent the spring and fall painting and worked as a guide/fire ranger in the summer. How could someone who was so experienced in traversing lakes die of an "accidental death by drowning?" Where do the murder and suicide theories come from?

The Jack Pine (c. 1916-1917)
Here's a breakdown of the events:
July 1917
– Thomson was rumored to be in the midst of an affair with a woman named Winifred (Winnie) Trainor and they were engaged. Rumor has it that Thomson wasn't too keen on getting married, but Winnie was supposedly pregnant.
– Thomson went to a party and got into an argument with Martin Blecher, a German who was known to be a troublemaker, over who would win the war.
July 7
– Shannon Fraser, a friend, owed Tom some money, which led to the two men getting into a fight after they got drunk. Different accounts of the fight state that either George accidentally knocked Tom out or Tom accidentally fight his head on a gate. Either way, Tom seemed fine when he came around.
July 8
– Tom decides to go fishing. He is last seen alive sailing away in his canoe. A gunshot is rumored to be heard in the area that he was fishing in.
July 10
– Blecher finds Tom's overturned, empty canoe. He puts the canoe back into storage without telling anyone—until the cops began questioning everyone the following week.
July 16
– Tom's body is found. Both Dr. G.W. Howland and park guide Mark Robinson agree his head showed signs of trauma. "He reported a bruise about 10 cm across the right temple, air issuing from the lungs, and some bleeding from the right ear." Howland ruled Thomson's death as accidental due to drowning. There is no mention of a gunshot wound.
July 18-21
– Thomson is buried at Mowat Cemetery near Canoe Lake, but is exhumed two days later and reburied at the Thomson family plot.

The West Wind (1917)
Based on these events, a number of theories have popped up:
1. Murder – Blecher hit Thomson over the head with a paddle or shot him.
2. Manslaughter – Whatever happened between the two friends, Fraser's blow to Thomson's head caused subdural hemotoma (a collection of blood outside the brain) and Thomson died from that.
3. Suicide – Thomson thought death was a more preferable option to marriage and a baby, so he shot himself. No suicide note was found however.
4. Accident – Thomson got drunk, fell over while standing up in his canoe, hit his head on the side, and drowned.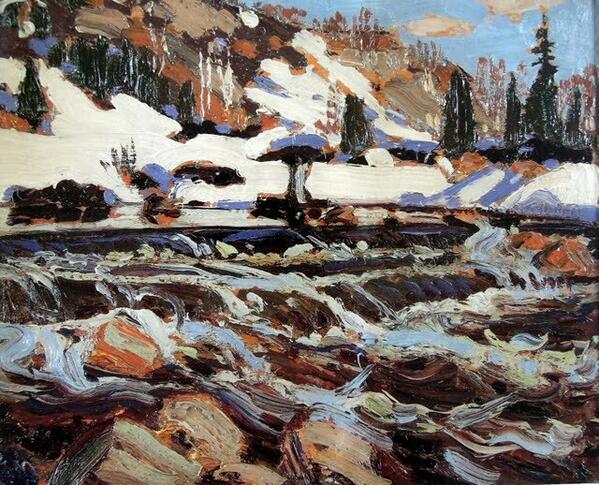 The Rapids (1917)
Here's where things get even weirder:
A few days after the body had been exhumed, people went back over to check it out and the hole there was too small to get a body from. Also, they found out the undertaker wasn't even licensed.
Skip ahead to 1956, Judge William Little and three friends were at Canoe Lake and they believed Tom's body was still in Mowat Cemetery. So they decided to go digging and they found skeletal remains. The skull found had a clear bullet hole through the left temple. The skeleton was exhumed and examined. However, the examination was botched. Not only did they lose some of the skull's teeth but the coroner declared that the remains belonged to a First Nations man despite Park officials stating that no First Nations were buried there.

Skull exhumed from Mowat cemetery site. Source: Algonquin Park Archives.

Headstone for Tom Thomson, Leith Church cemetery, Leith, Ontario. Source: Gregory Klages.
For some reason no one has yet to examine just what the heck is in the Thomson family plot…if anything is even there. Also, there have been no DNA examinations with Thomson's relatives and the skull that was found. I guess this 98 year old case will remain a mystery.
As with other artists who died young, his untimely death cemented his mystique and gave him a level of artistic recognition that eluded him during life.  Do you have a favorite Thomson painting? I know mine…

In the Northland (1915)
(Damn near had a heart attack when I unexpectedly came across it while at the Musée des Beaux-Arts de Montréal).
What do you think happened to poor Tom?
---
Sources
"Death on a Painted Lake: The Tom Thomson Tradegy," Great Unsolved Mysteries in Canadian History. Accessed from: http://www.canadianmysteries.ca/sites/thomson/home/indexen.html
"Tom Thomson Biography," Tom Thomson Art Gallery. Accessed from: http://tomthomson.org/tom-thomson/tom-thomson-biography/